Braces
A healthy, functional and attractive smile requires teeth that are straight and jaws that are well aligned. A good bite with teeth that are straight not only looks good, it contributes to overall oral health and well being.
Braces are orthodontic devices that are used to address problems such as crooked, gapped or crowded teeth, overbites or underbites and improper jaw relationships. With advances in orthodontic technology and systems of care, a wide selection of braces is available today. Providing effective and efficient care, these choices are far less bulky, much less noticeable, and more comfortable than previous generations of braces.
The type of braces the dentist recommends for a patient's case depends on several factors including:
The severity of the bite problems
The degree of crowding or spacing of the teeth
If there is a need for extractions
The relationship of the upper and lower jaws and if a surgical correction is also required
How long the braces need to be worn to achieve the best outcome of care
If any supplementary appliances are needed to support orthodontic correction
A patient's cosmetic concerns
Metal Braces
The most common type of braces worn today, remain "metal braces". Made of high-grade stainless steel these braces are significantly smaller and have a lower profile than their predecessors from years ago. Each brace, which is known as an orthodontic bracket, is individually bonded to the front of each tooth. Metal braces allow for efficient and highly controllable tooth movement.
Ceramic Braces
When conventional braces offer the best approach to care, but a more cosmetic appearance is desired, ceramic braces provide an excellent alternative to traditional metal brackets. Ceramic braces, or clear braces, blend in with the natural color of your teeth, making it less obvious to others that you are wearing orthodontic appliances. While being far less visible, they still function in very much the same way as metal braces.
Lingual Braces
Today, there are even metal braces that can be placed on the "tongue side" or lingual of every tooth, so that they are in effect completely hidden from the outside world. These braces work in the same way as the metal or ceramic braces affixed to the front of the teeth, but can be more uncomfortable and more difficult to keep clean due to where they are located.
Orthodontic Aligners
One of the most recent options in orthodontic treatment that has provided a more discreet, convenient and comfortable method of care is a custom sequence of removable clear aligners that gradually move the teeth into their correct positions.
Crowns & Caps
The terms dental crowns and caps are synonymous. If dental decay, cracked fillings, root canals, clenching or grinding the teeth have caused extensive damage to the underlying tooth structure a dental filling may not be a sufficient restoration. The only way to completely restore the cosmetic appearance and function of this tooth is often full coverage with a dental crown. The good news is that a completed dental crown looks and feels like a natural tooth.
In addition to restoring a single natural tooth, crowns can be used in other situations including being the supporting ends of dental bridge, covering dental implants, or as coverage for a cracked tooth to prevent further breakdown. A crown may also be indicated when a discolored or stained tooth needs to be restored to its natural appearance. Crowns can be made of either porcelain baked onto a metal substrate, all-porcelain, or many of the new ceramic materials that have been developed.
Dental Bridges
When teeth are missing, a series of changes that can impact your overall dental health and jaw function may begin to develop. The adjacent teeth may start to drift or tilt into the space, and teeth in the opposing jaw may start to shift toward the area of the missing tooth. It is therefore important to replace either the single tooth or multiple teeth that are missing from this area. One of the best options to prevent the consequences of shifting teeth and to restore full function to a small edentulous section in the mouth is a dental bridge.
A dental bridge replaces the missing teeth with artificial teeth called "pontics," and is supported on the ends by prepared natural teeth. Once fabricated and fitted a dental bridge will be permanently "fixed," or cemented into place. Like crowns, bridges can be made of either porcelain baked on to a metal substrate or many of the new ceramic materials that have been developed.
Dental Fillings
Dental Fillings are the most common type of dental restoration used to replace sections of teeth that are missing, damaged or decayed. While traditional dental materials like gold, amalgam, porcelain, and composite successfully restore teeth; recent advances in dental technology have made a wider and improved selection of restorative choices available. Some of the newest state-of-the-art filling materials, including ceramic and the latest composite materials, are not only strong and durable, they offer the most aesthetically pleasing and natural looking results.
Dentures
Whether from disease, malnutrition, genetic disorders or an accident, it is occasionally necessary for patients to have some or all their upper and lower teeth extracted. While this can be upsetting news, partial or full dentures can be fabricated to restore an attractive smile, provide needed support for normal facial contours, and reestablish a highly functional occlusion.
A denture consists of natural looking artificial teeth set in a supportive base. It may be fabricated to replace either a small group of teeth, an entire upper arch, an entire lower arch, or used to restore both dental arches.
A complete denture refers to the replacement of all the teeth in a dental arch. It can be inserted either of two ways. It can be inserted some weeks after the extraction sites and other surgical procedures have had a chance to heal, or as an "immediate" denture placed the same day the last remaining teeth are extracted. Although an immediate denture offers the advantage of not having to go without teeth for any length of time, it can require multiple adjustments as the tissues remodel and heal following dental extractions or other surgical procedures.
In situations where some sturdy teeth remain, partial dentures can be fabricated. Partial dentures can achieve adequate retention and stability by having clasps on the teeth surrounding the edentulous areas.
In some cases, added stability for the dentures can be provided by strategically placed implants.
Extractions
Gum Treatment
There are many different varieties of periodontal disease, and many ways in which these variations manifest themselves. All require immediate treatment by a periodontist to halt the progression and save the gum tissue and bone. Here are some of the most common types of periodontal disease along with the treatments typically performed to correct them:
Gingivitis
Gingivitis is the mildest and most common form of periodontitis. It is caused by the toxins in plaque and leads to periodontal disease. People at increased risk of developing gingivitis include pregnant women, women taking birth control pills, people with uncontrolled diabetes, steroid users and people who control seizures and blood pressure using medication.
Chronic Periodontal Disease
Chronic periodontal disease is the most common form of the disease, and occurs much more frequently in people over 45. Chronic periodontal disease is characterized by inflammation below the gum line and the progressive destruction of the gingival and bone tissue. It may appear that the teeth are gradually growing in length, but in actuality the gums are gradually recessing.
Aggressive Periodontal Disease
Aggressive periodontal disease is characterized by the rapid loss of gum attachment, and the rapid loss of bone tissue. The disease itself is essentially the same as chronic periodontitis but the progression is much faster. Smokers and those with a family history of this disease are at an increased risk of developing aggressive periodontitis.
Periodontal Disease Relating to Systemic Conditions
Periodontal disease can be a symptom of a disease or condition affecting the rest of the body. Depending on the underlying condition, the disease can behave like aggressive periodontal disease, working quickly to destroy tissue. Heart disease, diabetes and respiratory disease are the most common cofactors, though there are many others. Even in cases where little plaque coats the teeth, many medical conditions intensify and accelerate the progression of periodontal disease.
Necrotizing Periodontal Disease
This form of the disease rapidly worsens and is more prevalent among people who suffer from HIV, immunosuppression, malnutrition, chronic stress or choose to smoke. Tissue death (necrosis) frequently affects the periodontal ligament, gingival tissues and alveolar bone.
Implant Dentistry
Losing a tooth due to injury, dental decay, or gum disease can happen. However, in order to avoid causing problems for the adjacent teeth and your overall dental health, it is important to replace the tooth that has been lost. This can be done any number of ways including fixed bridges, removable partial or full dentures as well as a more recent procedure known as dental implants.
One of the most significant dental innovations in recent times, an implant is a small surgical fixture made of biocompatible metal or ceramic materials that is placed into the jawbone and functions in the same manner as the root of tooth. In the same way that natural root supports the natural crown of your tooth, an implant once it fully integrates with the surrounding bone, provides a stable and durable foundation for a replacement tooth. Implants often support a crown for an individual tooth, but can also be used as abutment teeth for a dental bridge, or strategically placed to help stabilize a denture.
Out of all the restorative choices available today, an implant comes the closest to replicating the look, feel and function of a natural tooth. Furthermore, it is the only method of tooth replacement that does not require the involvement or preparation of the adjacent teeth. A dental implant also stimulates bone remodeling to prevent shrinkage in areas where teeth are missing and helps to restore facial contours in areas where significant bone loss has occurred.
Invisalign
What is Invisalign®?
Invisalign® has changed the face of orthodontics. Instead of wires attached to your teeth, your teeth can now be straightened invisibly.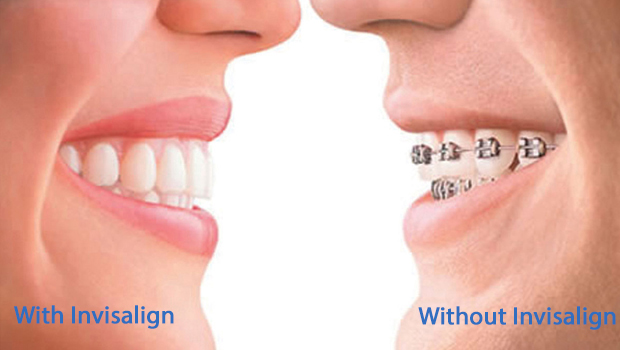 Invisalign® is clear.You can straighten your teeth without anyone knowing.
Invisalign® is removable. Unlike braces, you can eat and drink what you want during treatment. You can also brush and floss normally to maintain good oral hygiene.
Invisalign® is comfortable. No metal brackets or wires to cause mouth irritation, and less time in the dentist's chair getting adjustments.
The Invisalign® process has been proven effective in clinical research and in orthodontic practices nationwide. However, only a certified dentist like ours can undertake this procedure.
The Invisalign® Process

A set of aligners are worn for about 2 weeks, removing them only to eat, drink, brush, and floss.
As you replace each aligner with the next in the series, your teeth will move – little by little, week by week – until they have straightened to the final position the dentist has prescribed.
You will visit us approximately once every 6 weeks to ensure that your treatment is progressing as planned.
Total treatment time averages 11 months with the average number of aligners worn during treatment between 18 and 30. This of course will vary from case to case.
The Invisalign System combines advanced 3-D computer graphics technology with 100-year-old science of orthodontics. Invisalign aligners are designed to move your teeth in small steps to the desired final position prescribed by your orthodontist. Each aligner is precisely calibrated and manufactured to fit your mouth at each stage of the treatment plan. Your first step is to visit our office to determine if Invisalign is right for you. After sending precise treatment instructions, Invisalign uses advanced computer technology to translate these instructions in a sequence of finely calibrated aligners — as few as 12 or as many as 48. Each aligner is worn for about two weeks and only taken out to eat, brush and floss. As you replace each aligner with the next, your teeth will begin to move gradually — week-by-week until the final alignment prescribed is attained. Then you'll be smiling like you never have before!
Oral Exams
Your first visit to our office is very important with regard to establishing your oral health baseline. We will begin by carefully reviewing your medical and dental histories and taking special note of all of your dental concerns, as well as any symptoms that you may be experiencing. This will be followed by a thorough clinical examination, including an oral cancer screening, periodontal evaluation, an analysis of your occlusion (bite) plus a thorough examination of your teeth, their supporting structures, and the complete orofacial area. Any needed diagnostic dental films will be taken at this time.
Orthodontics
A healthy, functional and attractive smile requires teeth that are straight and jaws that are well aligned. The goal of orthodontic treatment is to correct the cosmetic and functional problems associated with teeth that are either overcrowded, have spaces between them, or that have shifted over time due to extractions, habits, or abnormal bite patterns. Orthodontics can also address skeletal discrepancies between the upper and lower jaws.
Orthodontic treatment can range from the minor movement of a few teeth to the alignment of an entire bite. It may also be used in some cases to align teeth both before and after the surgical correction of severe jaw discrepancies.
Orthodontics utilizes the principles of physics to slowly move teeth into their proper positions. This is performed by using a selection of corrective appliances, including braces, clear aligners, and retainers. Designed to apply incremental and controlled forces to move the teeth in the desired direction, these appliances are adjusted on a regular basis throughout the course of care. Once a malocclusion is corrected and the teeth are completely aligned, retainers are often placed to help ensure that the result remains stable.
Orthodontic treatment time depends on the patient's age, the severity of the malocclusion and the unique needs of each particular case. Some corrections can be accomplished in a few months while others can take a few years. However, for many malocclusions the average length of orthodontic treatment time is 24 months.
Pediatric Dentistry
At our office, we take pride in creating and maintaining beautiful and healthy smiles for our younger patients in an environment that is lighthearted and fun. With an emphasis on establishing oral health habits that last a lifetime, we offer a comprehensive program of preventive care and closely monitor the dental health of our pediatric patients as they grow.
As an added level of protection to guard against childhood dental decay, we recommend periodic fluoride treatments and the application of dental sealants on the biting surfaces of the newly erupted permanent back teeth.
Preventive Program
According to recent studies good oral hygiene is essential not only for your dental health, it is important to your overall health and well-being. Our comprehensive dental hygiene program is designed to preserve your teeth and the supporting structures by preventing the onset, progress, and recurrence of dental disease.
To maintain your optimal oral health we recommend periodic professional dental cleanings. Removing plaque and debris from teeth, especially from places where a toothbrush can't reach, like underneath the gum line and in-between teeth is extremely important.
It is also important to keep in mind that in conjunction with periodic dental professional cleanings, a good dental home care regimen is necessary. As part of the preventive program at this office your current home care practices will be reviewed. Following that, we will make recommendations as to what areas require improvements, and instruct you in the proper methods of brushing and flossing.
Additional preventive services may be indicated for individual patients. An integral part of our preventive program for pediatric patients includes periodic fluoride treatments and the application of dental sealants.
Sedation Dentistry
Sedation dentistry offers individuals with general anxiety about going to the dentist or fears about a specific dental procedure the opportunity to have a stress free and more comfortable experience. Utilizing safe and controlled sedation techniques prior to the dental procedure the patient is eased into a state of complete relaxation. This eliminates any discomfort, pain, and preoperative anxiety that may be associated with a particular dental visit. With sedation dentistry patients typically feel more at ease post-operatively as they have little or no memory of the actual moment-to-moment dental procedure.
Nitrous Oxide
Commonly referred to as "laughing gas," nitrous oxide is used as a mild sedative to reduce anxiety and allow a level of relaxation during a procedure. Nitrous oxide is inhaled through a small mask over the nose. It is administered for the duration of the procedure and is turned off as the procedure is coming to an end. The effects of this method of sedation wear off very quickly.
Oral Sedation
Oral Sedation means that you will be given a prescription for an oral medication prior to you appointment. Taken at the recommended time before your appointment, this medication allows you to fully relax by the time your procedure begins. When receiving oral sedation, a patient must have an escort on the day of the procedure to drive them to and from the oral surgeon's office.
IV Sedation
IV Sedation involves a sedative that is administered intravenously, or directly into a vein. It is indicated when deeper sedation is required. This type of sedation can be quickly modified to your state of consciousness and can be continued as long as necessary for the procedure.
IV Sedation requires an empty stomach. Patients receiving this type of sedation will be instructed as to how many hours prior to their surgical procedure they should stop eating or drinking. In addition to this, patients receiving IV sedation will need to have an escort present for the appointment and to be able to drive them home when the appointment is completed.
Teeth Whitening
Teeth that have been stained or darkened by food, tobacco use, age, medications or injury can be lightened and brightened by means of a non-invasive process known as teeth whitening.
Teeth whitening or bleaching simply refers to any process that will make the teeth appear whiter. While there are many over the counter options for teeth whitening, the most effective and safest teeth whitening systems are the professional strength ones available at the dentist's office. A dental professional whitening system offers a higher concentration of whitening components and delivers them to the teeth in the most efficient manner to achieve optimal results.
At our office, we offer two exceptional options for tooth whitening. You can choose either an in-office tooth whitening procedure or a professional take home system. Both of these are top-of the-line systems. However, the biggest advantage of the in-office procedure is that in as little as one hour you can achieve a smile that is several shades whiter and brighter than the original color of your teeth.
Our professional strength take home system also produces excellent results. However, this is achieved by way of a more gradual process. Our take home kit may be prescribed alone, or after an in-office treatment to perfect or maintain the in-office result.
Veneers
If your teeth suffer from gaps, chips, stains, or discolorations you may be a candidate for porcelain veneers, a highly effective and minimally invasive cosmetic procedure that can achieve beautiful results.
Porcelain veneers are thin facings custom-made of the highest quality ceramic materials that are designed to fit perfectly over the front of your teeth. One of the most conservative cosmetic treatments available, veneers can mask a host of dental imperfections to give you the smile that you have always wanted. Porcelain veneers not only enhance and improve the shape of your teeth, they are able to create an overall whiter and brighter smile.
One of the most appealing aspects of the process of fabricating porcelain veneers is that they involve minimal tooth preparation and take just a few visits. Porcelain veneers, once they are fabricated and fitted, are permanently bonded to the underlying teeth. The result is a naturally pleasing smile that is both strong and durable.